Turn-Key Tubing Means No More Gundrilling on or off Swiss Machines
Contact Grover Precision's Sales team: Director of New Business Development Grant Niewinski (grant.niewinski@groverprecision.com) at 312.607.5589 or Director of Customer Management John Small (john.small@groverprecision.com) at 207.890.6714.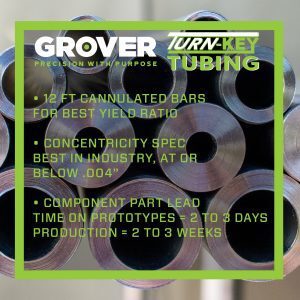 Grover Precision, a leading provider of seamless precision tubing and products, has introduced Turn-Key Tubing—12-foot seamless tubing for the manufacture of orthopedic implants and instruments on or off Swiss machines. Grover can deliver tubing exacting customer specifications with drastically reduced lead times. This seamless precision tubing is offered in a variety of materials including Ti-6AL-4V, 316LVM, 455/465, 17-4PH, Nitinol, MP35N, L605, and others.
CAPABILITIES
Length: 12-foot cannulated bar.
OD: 0.375" to 2.625".
ID: 0.138" (3.5mm) and as large as 2.000" (51mm) in full 12-foot length.
Concentricity: .004" TIR.
Small ID Component Parts: ID as small as .039" (1mm) in the piece part configurations, starting at 0.176" OD.
####
Grover Gundrilling, LLC / Grover Precision is a leading provider of precision seamless cannulated bar, gundrilling, deep-hole drilling, honing, and related machining and support services to a broad range of industry markets and customers located throughout the United States, Canada, and Europe. Grover Precision is an Axion Services company. Axion Services, LLC is a leading supplier of innovative manufacturing solutions through technology and people. Find out more at www.groverprecision.com.