Grover Precision will be in Hall A, Booth 568 in Orlando, Florida, March 24–28
Contact Grover Precision's Sales team: Director of New Business Development Grant Niewinski (grant.niewinski@groverprecision.com) at 312.607.5589 or Director of Customer Management John Small (john.small@groverprecision.com) at 207.890.6714.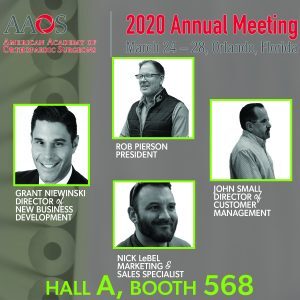 Grover Precision, a leading provider of seamless precision tubing and products, will be exhibiting at the AAOS Annual Meeting in Orlando, Florida, from March 24-28. The official Annual Meeting of the American Association of Orthopedic Surgeons, this is one of the largest shows of its kind.
"We're extremely excited to have a presence at this event," said Grover President, Rob Pierson. "With the staff that will be on hand, we are ready to bring our Turn-Key tubing, precision cannulated bar and Input Tubing to a much larger audience."
"This is a great opportunity to showcase our product on a strong professional stage" said Grover Director of New Business Development, Grant Niewinski. "We're producing some of the finest cannulated bar you can buy, and we're doing it faster than anyone."
Joining Pierson and Niewinski will be Grover Precision Director of Customer Management, John Small, and Marketing and Sales Specialist Nick LeBel.
Grover will be exhibiting in Hall A, Booth 568. According to AAOS's website, www.aaos.org, "No other orthopaedic meeting provides… the opportunity to connect with this focused and engaged audience." The 2019 edition of the event saw 29,448 attend, and exhibit space for 2020 is already sold out.
####
Grover Precision is a leading provider of precision seamless cannulated bar, gundrilling, deep-hole drilling, honing, and related machining and support services to a broad range of industry markets and customers located throughout the United States, Canada, and Europe. Find out more at www.groverprecision.com.