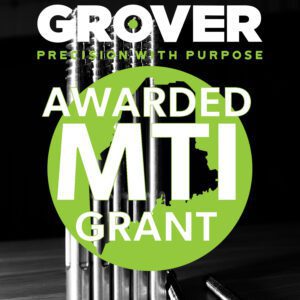 Grant awarded by Maine Technology Institute for new product development
Grover Precision of Oxford, ME is the recipient of $100,000 in the development of new technology to utilize the theories and disciplines of high-speed machining to machine medical components and materials.
Spearheaded by Grover Precision President, Rob Pierson, this grant allows Grover Precision to add to its team while working on a project designed to create a product which greatly reduces production time but is still the highest quality available in the market—in effect, slashing production time but still producing the same, world-class precision tubing.
"Grover Precision is deeply appreciative of this grant, and what it will allow us to accomplish," said Pierson. "Research and development is crucial to manufacturing, and is quite frequently costly. This will allow us the opportunity to create something nobody has ever seen before. Technology and innovation are the fuel of our growth, and this lets us become even more valuable as a Maine-based manufacturer."
For more information about the Maine Technology Institute, click here.
To see more about Grover Precision's Seamless Tubing, click here.
####
Grover Precision is a leading provider of precision seamless cannulated bar, gundrilling, deep-hole drilling, honing, and related machining and support services to a broad range of industry markets and customers located throughout the United States, Canada, and Europe. Find out more at www.groverprecision.com