Visit with Director of New Business Development Grant Niewinski in Hall 16/D21-1
Contact Grover Precision's Sales team: Director of New Business Development Grant Niewinski (grant.niewinski@groverprecision.com) at 312.607.5589 or Director of Customer Management John Small (john.small@groverprecision.com) at 207.890.6714.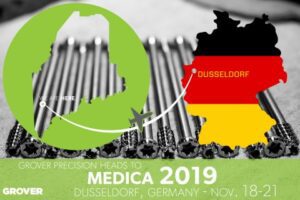 Grover Precision, a leading provider of seamless precision tubing and products, will be exhibiting at MEDICA 2019, the largest medical supply trade show in the world, in Dusseldorf, Germany, from November 18–21. The largest medical trade event in the world, MEDICA hosts 5,100 international exhibitors and nearly 120,000 visitors from 155 countries. This is Grover's first appearance at the show. Visit http://bit.ly/2W6NXn5 to find out more about Grover's presence at MEDICA.
"This is a tremendous event that's simply too big to miss," said Grover President, Rob Pierson. "It is a chance for us to be represented at the largest event of its kind in the world and positions us to get the largest number of eyeballs on our product in one place."
"I can't wait to be able to introduce our Turn-Key Tubing to the global market," said Grover Director of New Business Development, Grant Niewinski. "From three- to six-inch blanks, to components for rapid prototype in under three days, to Turn-Key Tubing in 12-foot cannulated-bar under four weeks to spec—this is our chance to unveil what we can offer to the world."
Grover will be exhibiting in Hall 16, Section D21-1. According to Medica's website, "MEDICA is the world's largest event for the medical sector. For more than 40 years it has been firmly established on every expert's calendar. There are many reasons why MEDICA is so unique. Firstly, the event is the largest medical trade fair in the world – it attracted more than 5,100 exhibitors from 70 countries in 17 halls."
####
Grover Gundrilling, LLC / Grover Precision is a leading provider of precision seamless cannulated bar, gundrilling, deep-hole drilling, honing, and related machining and support services to a broad range of industry markets and customers located throughout the United States, Canada, and Europe. Grover Precision is an Axion Services company. Axion Services, LLC is a leading supplier of innovative manufacturing solutions through technology and people. Find out more at www.groverprecision.com.