Grover Precision President Rob Pierson hosts Vistage business leadership meeting in Oxford, Maine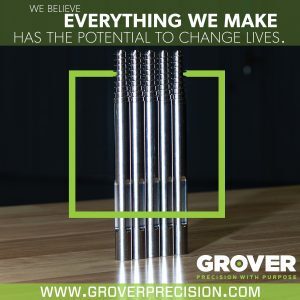 Grover Precision, a leading provider of seamless precision tubing and products, is headed by President Rob Pierson, who in the last two years has led Grover to unprecedented growth and stability. He is also a member of Vistage, the world's largest executive coaching organization for small and midsize businesses.
On October 17, Mr. Pierson hosted a Vistage event with nearly two dozen local business owners from the Southern Maine area. Featuring a morning presentation from speaker Patrick Mulvey of StrategyDone, the afternoon was capped with Pierson himself taking the floor.
"This event was a great opportunity for the small business community in Southern and Central Maine. It allows leaders to come together and discuss their strategies for successful business," said Pierson. "It was also a chance for me to relay Grover Precision's story, and show how the last two years have been so important for us. And we're just getting started."
####
Grover Gundrilling, LLC / Grover Precision is a leading provider of precision seamless cannulated bar, gundrilling, deep-hole drilling, honing, and related machining and support services to a broad range of industry markets and customers located throughout the United States, Canada, and Europe. Grover Precision is an Axion Services company. Axion Services, LLC is a leading supplier of innovative manufacturing solutions through technology and people. Find out more at www.groverprecision.com.